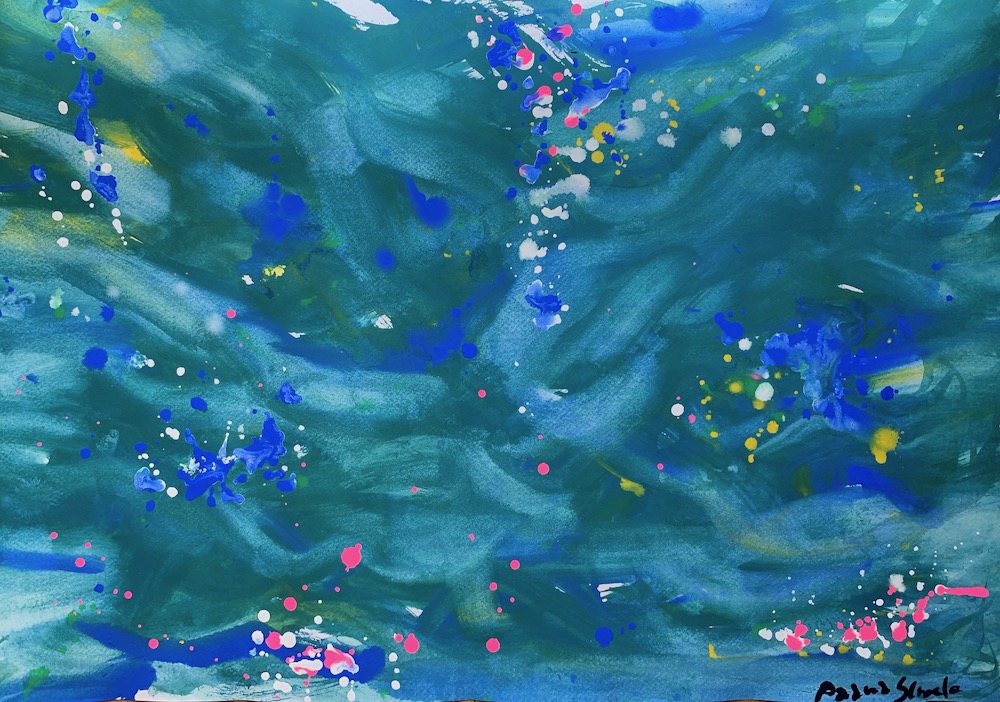 Recently, I have explored and created a method named "astrology art" with my friend.
A solar constellation is represented by "What's your constellation?" on some fashion magazines.
We can have the key messages to live our own ideals and integrate our life experiences from our solar constellation.
If you meditate with your solar constellation in a special way,
a mysterious message will come.
This is an impression of my solar constellation, Aquarius.
The message to me was quite simple.
"Hey hey, you know. It's your favorite way to live yourself, enjoying life freely and flexibly like this."
"Only you, who is creating your own restrictions"
It was like message from an old friend who have known me well from beginning.
It was not polite but filled with much of love.
最近、アストロロジーアートなるメソッドを探求し、創造している。
太陽星座とは、よく雑誌か何かで「あなたは何座?」で表されている星座で
今世、自分自身の理想を生き、生の体験を統合して行くためにキーとなるメッセージを持っている。
特別なやり方で自分の太陽星座との瞑想を行うと、不思議なメッセージがやってくる。
これは西洋占星術の私の太陽星座である水瓶座の印象を描いたものだ。
私へのメッセージは至って簡単なもので、
「ねえねえ、解ってるよね。こんな風に自由に柔軟に楽しみながら自分を生きることが、あなたの好きなことだって」
「あなただけなんだよ、自分への制限を作っているのは」
なぜか上から目線
それは、私をよく知っている昔からの友人風な、愛の言葉だった。