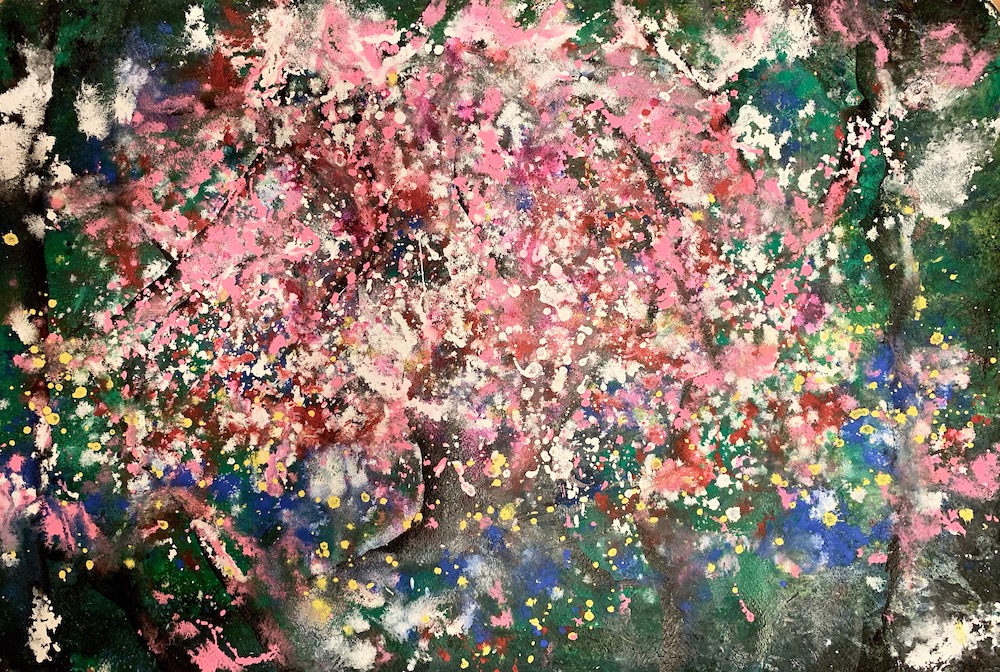 This is what I drew in May when the cherry blossoms were over.
At that time, I was in a completely fresh green cherry tree and lush plants.
I felt that I was still in where cherry blossoms incense of energy what was vivid and full of blooming.
Even though it bloomed so much, it was beautiful enough,
it put all the vitality that it can have now to bloom.
The flower bloomed as if it bent branches by it's weight and it was shining light.

Now, in this moment, just surrender its richness to nature and live,
As if there was no tomorrow.
The moment of life, the beauty and light of life continue to tell me something.
---
これは、桜も散り終わった5月に描いたものです。
私はその時、すっかり新緑に生え変わった桜の木と、青々とした植物達の中にいました。
それでも、いまだにあの鮮やかで豊かに、はち切れんばかりに咲き誇った
桜の残り香の様なエネルギーが
私の中にずっと残っているのを感じていました。
こんなにも咲かなくても十分綺麗なのに、
それでも自分の今持てる全ての生命力をかけて、
枝がしなるほどに花開かせ、光を放っていた
あの桜、そしてあの桜。
今、この瞬間に、ただ自分の豊かさを自然に明け渡して生きる、
まるで、明日がないかの様に。
瞬間瞬間を生きる、その美しさと生命の光が、今も私に何かを語り続けています。
Cherry Blossom 4 (2019) by Padma Shreela, Acrylic,Paper